Nothing in the world can lessen the love that cat parents have for their fur babies.
Yet regularly finding your front door mat soaked in kitty pee can bring animal lovers close to a breakdown.
And, we find feline guardians feeling out of their depth trying to put a halt to the wee-wee incidents.
You know well as much as I do, being a cat parent, it's not easy to stop this behavior
Yet, before you can try to fix the situation, it's best to understand why your cat may be indulging in such behavior.
Naturally, the ideal remedy can only come when you manage to comprehend your kitty's leaky adventures.
And, yes, you can very quickly stop your cat from peeing on the front doormat.
Also, you have to remember every time you step into a smelly, soaked patch that your cat is not deliberately trying to get your angry 
So the first thing we're going to talk about is…
DISCLOSURE: http://catloverhere.com/ is reader supported so if you buy any products featured on this site I may earn an affiliate commission. As an Amazon Associate I earn from qualifying purchases. Read my full disclosure here.
When my cat was peeing on my door mat I was confused and furious to begin with so I scoured the interent for answers and couldn't really find a solution that worked until I stumbled across a guide that taught me techniques which solved the pee problem for good, it's called Cat Spray Stop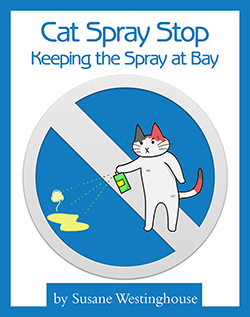 Why Is My Cat Peeing In Front Of The Door?
It may sound unbelievable, but there could be several reasons that your cat is taking a leak in front of your door.
So, read on to find out some of those.
1) Marking Territory
It may be possible that your cat is neutered.
But there could be plenty of neighborhood cats that aren't.
If your fluffball sniffs the urine of other cats on the mat, it will pee on the front door mat or close to the front door to mark the territory.
It's fundamentally a communication technique to let all the other felines in the hood know that the house and everything in it belong to your kitty alone. 
Now, marking territory can happen in a home where you have multiple fur babies, that is to say, more than one cat.
Or, you may keep the curtains open, and your cat can see other prowling cats around the house.
In such an event, your cat will make a move to mark the spot as its own.
2) Appealing Scent And Texture Of The Rug
Cats, in particular kittens, love the soft fabric, and if your furbaby likes it too much, it may pee some on it to mark it as valued territory.
Similarly, some floor mats have a rubber anti-slip back that carries an attractive scent that appeals to cats. 
3) Medical Conditions
There are times when you think that your cat is peeing on the mat as marking spots.
But, cats sometimes urinate involuntarily as well.
If you find that your cat is taking a leak far more frequently than average, it may be suffering from an underlying health condition.
Bacterial infections or inflammatory diseases in the urinary tract or bladder will make your beloved pet's bladder weaker.
And, it will invariably pee more.
If the front door or a rug is closer and accessible, then your cat will use it to relieve itself. 
Furthermore, if a cat has liver or kidney disease, it will drink more water.
You see, any medical condition can cause dehydration in your cat, and to prevent that, your poor kitty will drink more to flush out the toxins.
So, it will have more wee-wee-related accidents.
The nearness of the front door or texture of the mat may have nothing to do with the accidents.
If you suspect any health issues in your cat talk to a Vet immediately…
TALK TO A VET ONLINE INSTANTLY
It's a natural cat litter that monitors your cats health by containing an indicator that changes colour when abnormalities in your cats urine are detected.
No products found.
And, cats can have diabetes and hypothyroidism, which can also make them want to pee more. 
Which is why it's very important to get your cat checked up as soon as you notice a change in their behavior in regards to not using the litter box
Now let's look at how you could stop this behavior (If it's not got to do with health)…
4) A Dirty Litter Box
If your cats litter box is dirty when it goes to pee then it won't use it, they are animals who love clean areas.
So clean the box regularly, immediately after used when possible, and give it a thorough clean to remove all odours as the cat may still smell them even after you can't.
If that's not an option because you're not at home most of the day then consider a Robotic Litter Box to automate the task…
No products found.
5) Your Cat Smells It's Scent On The Doormat
It's possible for your cat to smell it's scent on a doormat even after you've cleaned it thoroughly and long after you can still smell it, their smell is just so much more powerful than ours.
Cat urine stains and their associated smells are nearly impossible to remove with standard cleaning products or general household products due to the smell lingering and the fact your cat may urinate there again.
And sadly it will just get worse over time as the urine and smells compound.
But thankfully there is a solution…
A special Enzyme Cleaner designed specifically to remove cat stains and odours, forever and you can find one of the best options available here…
No products found.
How To Stop Cat Peeing On Doormat?
Cats are amazingly clean animals that are obsessed with self-hygiene. 
So, if your otherwise well-mannered kitty is behaving out of the ordinary, it's wise to keep a closer eye on your beloved pet and comprehend its shift in mannerisms. 
The first thing to do when your cat starts peeing everywhere other than its litter box is to rule out medical conditions.
A visit to the vet will not only help you figure out what's wrong with your furbaby.
It may even result in ingenious ideas from the vet to resolve the issue if no health concerns exist.
Now, it may be that you have kittens at home that have not entirely gotten the hang of using their litter boxes.
In such a scenario, lots of patience and perseverance are handy.
Furthermore, it makes sense to tuck away all the expensive rugs and mats you have around till your kittens have mastered the art of wee-weeing in the litter boxes.
But, if your cat likes the way your doormat smells, you can always make use of citrus-scented mat cleaners.
It is common knowledge that cats hate the smell of lemons and oranges.
So, a good whiff of lemons from the front door mat will lead your cat to steer clear of the door.
On many occasions, a coarser mat with rough, natural materials will keep the kitty away too. 
But, if the neighborhood cats like your porch too much, you can hardly blame your fluff ball for reacting strongly.
It's best to discuss with the neighbors to have their cats neutered to prevent much of the territory making. 
However, if you have many strays that are attracted to your driveway because of easy access to food or water, then make it less desirable by placing the food and water for the strays away from your front door.
Furthermore, motion-operated compressed air canisters are an ideal way to shoo away unwanted pets. 
If you have a tabby taking a whizz at your front door, have a canister placed right next to the door.
The moment the movement is sensed, the canisters release a squirt of compressed air.
And, it's safe to say that the majority of cats hate that.
Hence, even if your beloved pet is the cause of piss stains on the porch, your cat will not hate you.
It'll rightly hate the compressed air canister and stay well away from the front door or the doormat.
Remember to check out the guide which can eliminate your cat from peeing on the doormat or anywhere else in your house called Cat Spray Stop…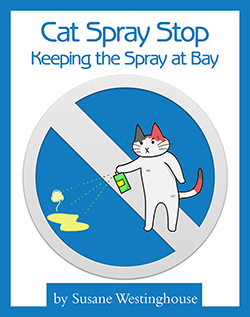 Things To Remember
You must never yell or hit your pet for any reason.
The trick is to understand what is causing the bad behavior and then taking steps to remedy it.
Your cat does not appreciate your yelling or hitting.
But, it will weaken the bond between you and your furbaby if you apply negative reinforcement to correct bad behaviors.  
Another vital thing to keep in mind is that regular detergent is never enough to remove the scent of cat urine.
So, it may be that your cat was having some health problems and now is cured.
But, if it will smell cat urine on the mat, it will, in all likelihood, pee on it again.
So, you have to get pet odor removing cleaning agents available at most pet stores and clean up all the spots that were the tinkle spots of your cat.
Moreover, animal lovers worldwide recommend a douse of baking soda in the areas where your cat may have urinated.
You see, baking soda and vinegar serve as fantastic cleaning agents and work to remove any remnants of stain or odor. 
Or if you want to know the best cat urine odors then check out my article
Also, if you happen to have neighbors who don't believe in neutering their pets, it's advisable to educate them about the benefits of neutering pet animals. 
Is This The Best Solution To Stopping Your Cat Peeing At The Front Door?
When our cats start too pee outside the litter box it can become a nightmare!
The house stinking like cat urine is not something you want to deal with!
I know exactly what it's like
The smell of cat urine can drive you insane right?
But here's the good news
You can stop this behavior and you don't need to go searching all over the internet for a solution
That itself is a headache too!
I mean this website says to do this and then another website says this idea works
It becomes overwhelming
Which is why you need to follow a step by step system
A guide that has ALL the answers in one place
And that guide is called Cat Spray Stop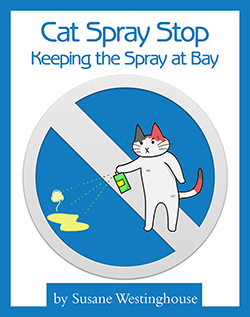 It's definitely something you should check out and I even bought it myself as you can see here, and it worked wonders for me at stopping my cat peeing on the door mat (and elsewhere in the house)…
Understand Why Your Cat Pees On The Door Mat
Parenting has many joys.
But, parenting a child or a pet means that you will invariably face demanding situations that will test your patience.
Your kitty cat will quickly learn appropriate behavior with your love, attention, and time.
Also, every parent will tell you that each child is unique.
And, the same rule applies to your beloved pet.
In short, every kitty cat is unique and distinct.
You have only to learn to understand your furbaby's needs better, and you will find eternal bliss in your household with a cuddly cat.
Don't forget how highly I recommend Cat Spray Stop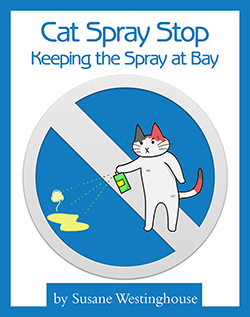 Related article – Why is my cat peeing everywhere all of a sudden?
Last update on 2023-07-20 / Affiliate links / Images from Amazon Product Advertising API