I have a four-month-old kitty that I adore.
Recently, she started peeing on my kitchen countertops.
At first, I was very confused because she had her litter box in the laundry room.
I did a bit of research and was able to find the reasons why she did that.
I will share what I discovered and how I dealt with the problem.
Here is a list of possible causes for the problem.
1. Urinary tract or bladder infection.
2. Territory marking.
3. Mice.
4. Chlorine bleach.
5. Litter box.
6. Stress.
7. Declawed cats.
I will discuss each of these possibilities in detail and give you ways to solve them.
Most of these causes are either health-related or behavioral.
DISCLOSURE: https://catloverhere.com/ is reader supported so if you buy any products featured on this site I may earn an affiliate commission. As an Amazon Associate I earn from qualifying purchases. Read my full disclosure here.
Why Is My Cat Peeing On Countertops in Kitchen?
One quick way to solve this problem is with the downloadable Cat Spray Stop eBook which you can learn more about by clicking the button below…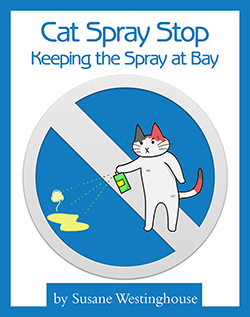 1) Urinary Tract Infection (UTI) or Bladder Infection Can Cause Your Cat To Pee On Countertops
UTI in cats can be truly painful which causes your cat to pee in inappropriate places such as the kitchen counter 
They usually look for cool places to alleviate the pain when urinating so your cat may find the kitchen cooler or your cat might be peeing near the fridge or freezer 
It's a way for your cat to communicate with you that something is wrong 
They can't literally speak to you so they pee outside the litter box to try and tell you something is wrong!
The first thing to do is to visit the nearest vet clinic and check your cats well-being.
Don't wait or hold back thinking your cat may just stop on their own because if you do this – there's a chance things can get worse 
If you've taken your cat to the vets and hopefully there's nothing medically wrong and he's all healthy then we need to do a little digging and see what other factors are causing this peeing on the kitchen counter.
If you want to prevent UTIs in future consider using "smart litter" brands that can detect this issue instantly, such as…
It's a natural cat litter that monitors your cats health by containing an indicator that changes colour when abnormalities in your cats urine are detected.
Sale
Alpha Paw - Genius Cat Litter, 5-Color Health Indicator, Odor Eliminating, Non-Stick, Lightweight Crystals, Non-Clumping, High Absorption, Unscented, 6 Lbs
PRIME & REVOLUTIONARY CAT LITTER: Genius Litter is a revolutionary natural cat litter that monitors your cat's health. This premium item contains an indicator that responds to deviating values in the urine such as blood, alkaline, bilirubin, or abnormal PH levels.
SUPER ABSORBENT: Our non-clump crystal sand cat litter allows urine or pee to be absorbed in seconds, the easiest way to keep your catbox fresh all day long. Plus, cleaning the litter box is quick and easy because it stays dry, leaving no trace. Best of all - no odor - making Alpha Paw cat supplies a great choice for multi-cat families.
LOW-TRACKING: Our natural cat litter refill items do not contain perfume and will not stick to your cat's paws, preventing any unhealthy licking or messy house tracking. It is all natural, hypoallergenic, contains no chemicals and no additives added, safe for you and your cat or kitten.
BEST ODOR CONTROL: Help keep the litter box area neat and ready to use for your furry four-legged friend with Genius Litter. This scoopable cat litter stays ultra-clean even after weeks of scooping, creating a more inviting and better smelling litter box.
TRUSTED BRAND: We only want the best for your furry companion, and we are committed to helping them live happier, healthier, and longer lives. Your pet is special and worth it, which is why we design honest, high-quality products curated by pet parents, for pet parents.
Carry on reading..
2) Stress Can Cause Cats To Pee On Kitchen Counter
Yes, cats can get stressed too and one of the reasons could be you have too many people, kids or cats in the house.
It's a case of territory.
If your place is too crowded where your cat can't have its own space, bad behavior might occur such as peeing on the kitchen top.
Another reason could be a new environment
Have you recently moved homes?
If you have then your cat will take time to get used to their new surroundings
You see, cats love routine and as soon as that changes it can cause stress which leads to peeing outside the litter box
If this is the case then I would recommend checking out my article – Cat not using litter box after moving 
Your cat needs his own space.
Letting Him Relax and Play In His Own Space
One way you could do this is by getting him a cat tree where he can relax at the top and be away from all the noise and crowded areas
That way he can see his territory (the room) and feel safe and secure
This is very important if you have children or get a lot of visitors that are young children.
Here's a good option with 4 levels and plenty of hiding spots…
rabbitgoo Cat Tree Cat Tower 61" for Indoor Cats, Multi-Level Cat Condo with Hammock & Scratching Posts for Kittens, Tall Cat Climbing Stand with Plush Perch & Toys for Play Rest, Light Grey
(Spacious & Versatile Fun Center) - No matter your kitten wants to overlook the world on the top perch, melt into the luxury deep hammock, or feel spoiled in the cozy cradle, this multi-purpose cat tree works perfectly as a recreation paradise! Your furry friends can play with the interactive hanging ball and loop, tour freely in their castle across the platforms, or just be lazy inside the warm condo - Exploration never ends!
(Designed to Fulfill Your Cat's Nature) - This indoor cat tower is a go-to spot for your cat to play, exercise, and relax. Multiple scratching posts reinforced with natural sisal rope will satisfy your cat's instinct of scratching. Multiple layers and ladder also meet your feline's climbing nature. The cozy cat condo is a perfect hideaway for your sensitive baby to enjoy privacy. The top perch with raised edge feeds your cat's desire to look out the window and to take a sunbath on sunny days
(Sturdy Construction for Maximum Safety) - Crafted of heavy-duty particle wood, the strengthened base plates double secure the overall stability so this tall cat house won't shake or fall when your cat jumps in or out. The robust posts are made of high-density particle wood tubes which can bear lots of weight and hold all platforms firmly without any wobbling, ideal for large kittens and average cats
(Superior Quality Materials) - All platforms and supporting posts are made of strong P2-grade particle wood, ensuring the safety of your restless cat while jumping up and down this cat climbing tower. The skin-friendly plush covering gives feline-friendly softness and optimum warmth which your cat will never get enough of. The durable sisal rope allows your cat to sharpen the nails while saving your delicate furniture from scratches
(Easy Assembly Cat Tree) - Easy-to-use cat playground equipped with detailed graphic instructions for hassle-free installation. Overall dimension - 26.3" L x 19.6" W x 61" H (67x50x155cm). This attractive cat trees and towers in elegant gray will blend nicely with your room decor as a piece of modern cat furniture. A purrrfect gift for both your kitten and your sweet home!
You can check out my article – best affordable cat trees 
Likewise consider using a Cat Calming Kit…
Using Cat Calming Pheromone Diffuser Kit 
These can help de-stress and reduce anxiety in cats…
Cat Calming Diffuser & Pet Anti Anxiety Products - Feline Calm Pheromones Plug in & Cats Stress Relief - Relaxivet Comfort Helps with Pee, New Zone, Aggression, Fighting with Dogs & Other Behavior
✅ VET-RECOMMENDED TO KEEP YOUR CAT CALM + RELAXED - Pet Calming anti anxiety & stress relief products have been vet-reviewed and are vet-recommended to have a full spectrum phermone effect on your pets nerves, support brain function and maintain a calm aggression. This unique product is a sedative supplies for cats, it provides deep sleep for your pet, soothes nerves and causes relaxation leading to sleep

✅ DRUG-FREE SEDATIVES FORMULA : The cat calmer plug in emits a copy of the harmony marker pheromone. This allows cats to feel at ease and maintain a harmonious connection with one another.
✅ CORRECTION PROBLEMATIC BEHAVIOR: Effective for 90% of cats to reduce fighting with dog, scratching, urine marking, stop peeing, spraying, hiding, and other behavior among multi cats and kitten in the house.
✅HOW TO USE: The air diffuser kit covers an area of up to 700 square feet for 30 days of use. After that, you need to replace the oil refill. Plugin upright into a wall outlet with vents facing up and never into power strips. Unsafe use can cause the diffuser's increase odor or leak.
✅ FIRST EFFECT: For best aid, keep the diffuser connected for at least 7 days at all times. The classic refills are best replacement collar, travel spray, treats, deterrent, vest, capsules, feli, tablets, way, pills.
A cat that is stressed needs love and affection
They need assurance that you love them so be gentle
Yes, it's frustrating when they are peeing everywhere but shouting at them is just going to make things worse
Love and affection is needed
Here's an article I wrote about how to calm a stressed cat down
3) Dirty Litter Box Can Cause Cat Peeing On The Counter 
Cats are very clean animals.
I mean, they spend around 30% of their timing grooming themselves!
So imagine if the litter box is dirty
There is no way they will use at all
When you think of it – you can't blame them
We humans wouldn't use a washroom that is not clean so the same goes for your cat
It is best to scoop the litter as much as possible.
Try to scoop twice a day if you can
A fresh clean litter box will surely entice your cat to use it!
If you're a busy person and you know life can get busy then I would recommend investing in a self cleaning litter box
You don't have to scoop litter ever again
Saves you so much time and hassle because your cat won't be peeing outside the litter box!
Robotic Self Cleaning Litter Boxes
With these self cleaning litter boxes your cats box will always be clean and therefore it will increase the chance that they use it, see how these work here…
Sale
Bestseller No. 1
Omega Paw NRA15 Self Cleaning Litter Box Regular Size
THERE IS A NEWER VERSION OF THIS ITEM THE NRA15-V5.0
Easy to use
Cleans in seconds. Clean litter drops back into the pan while the waste deposits into a convenient pull-out tray for quick and easy disposal
Does not require electricity, liners or filters
Suitable for small to Medium cats
Sale
Bestseller No. 2
Pet Zone Smart Scoop Automatic Litter Box (Self Cleaning Litter Box, Cat Litter Box with No Expensive Refills) [Hands-Free, Easy to Clean Waste Disposal Litter Box, Works with Clumping Cat Litter]
HANDS-FREE WASTE DISPOSAL - Self cleaning cat litter box with a smart sensor for triggered activation of cleaning cycle. Includes one-month supply of no-touch plastic cat litter bags to use with your cat litter box. Great alternative to traditional cat litter boxes.
MESS AND ODOR CONTROL - Automatic cat litter box with angled deflector with fins and raised height ensures cat litter clumps stay inside cat litter box litter pan. Cat odor is eliminated with carbon zeolite technology in this automatic litter box. For best results, use lightweight cat litter or less dense cat litter.
CONVENIENT, COST-EFFECTIVE, EASY TO CLEAN - Being able to choose your favorite lightweight clumping cat litter reduces waste making this litter box much more budget friendly. No need to buy specialized or costly crystal cat litter for your large litter box. Other leading self cleaning litter box and automatic litter box can cost $600.00 annually in refills for one cat. Easy disassembly for cleaning and maintenance with modular components. Clean with pet-friendly soap and water.
QUIET - Four times quieter than other leading brands of cat litter box automatic self cleaning with no household disruption for your cats or you. Perfect self cleaning litter box for up to 2 cats.
CUSTOMER CARE & WARRANTY - One-year limited warranty on your electronic automatic cat litter box. Your automatic litter box ships in brown drop-ship box. Not recommended for kittens under 6 months
Bestseller No. 3
Hillpig Self-Cleaning Cat Litter Box: Extra Large Automatic Cat Litter Box with APP Control & Safe Alert & Smart Health Monitor for Multiple Cats [2022 Newest Version]
SMART, SIMPLE & SAFE: The Hillpig self-cleaning cat litter box features the APP control to help you manage the cat house to stay clean anytime and anywhere via the APP. (2.4Ghz Wi-Fi Only)
AUTOMATIC CLEANING SYSTEM: Automatic self-cleaning system help you to dump the poops into the trash bag after the cats go out of the litter box. And automatically turn on the purple light until the next time cats go to the litterbox.
SAFE ALERT PROTECTION: Built-in LED safe alerts allow you to know the operating status. Multiple secure sensors assure the emergency braking will be activated protecting your cats to prevent any cases.
HEALTH MONITOR FOR YOUR CATS: The smart sensors sync data to your phone allowing you to track its times of use, and also the litter capacity. So you monitor their health status at all times.
NO MORE STICKY POOPS: Our Hillpig automatic cat litter box applied the newest self-clean design but not the typical rotating filter. So the poops will not stick to the machine to become smelly inside anymore.
Check out my article – best automatic itter box for the money 
4) Declawed Cats
Declawing cats may not be illegal in other countries, but doing so is cruel and inhumane.
It is painful for cats and will cause behavioral issues.
Claws are cats' natural protection.
They also use it to scratch and bury their waste.
Another thing is that cats might feel pain when they try to bury their waste in the litter box.
That's why many pet owners carried out a petition to illegalize declawing cats to places where it is legal.
5) Mice
They could be trying to scare away mice which is a good thing because they are trying to protect you from mice.
You need to check your house for rodents and fumigate your house if necessary.
6) Chlorine bleach being used
Many cats do not like the smell of chlorine bleach.
They will pee on the surface to let you know that that's their space and they don't like the smell of bleach particularly lemon scented cleaners.
So if you disinfect your countertops using chlorine bleach, it may cause your cat to behave this way.
Likewise, if you've been cleaning their litter box with bleach or other disinfectants that they don't like the smell of it may be why they've stop using them all together.
Try instead to use a fragrance free Enzyme Cleaner that you can clean both your cats litter box with and the kitchen counter top with too…
Why is my cat peeing on the counter?
Urinary tract or bladder infection.
Territory marking.
Mice.
Chlorine bleach.
Dirty litter box.
Stress.
Declawed cats.
How To Stop Your Cat Peeing On The Kitchen Counter If None Of These Other Solutions Work
Look,
When your cat starts to pee outside the litter box it can become a real problem
Trust me, I know myself as I have experienced
It can get to such a problem where family members talk about rehoming our furbaby
Or we start to get into bickering fights with our partners
Before it gets to this point or if it has – it's time to put a stop to this
It's not easy
The internet has so much information and advice
So you go to one website and they say do this
But then another website says the complete opposite!
It can get overwhelming
That's why I would recommend checking out this guide called, Cat Spray Stop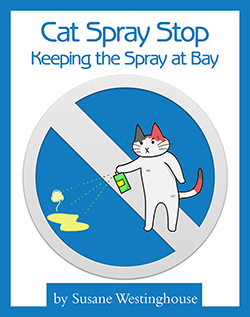 You can see I purchased it in the screenshot below…
You know what I love about it?
All the information is in one place.
It's a step by step system that you just need to follow so your cat will never Spray in your house ever again.
You get it straight away via email in a PDF format so it'll never get lost.
Backed with a 60 day money back guarantee 
My favorite thing? You get 4 FREE bonuses which you can learn about here…
Last update on 2022-09-30 / Affiliate links / Images from Amazon Product Advertising API