You wake up in the morning and head straight for a shower
Only to see cat urine in the shower!
And it stinks!
The worst part?
You're getting late for work
It's annoying
You just want your cat to go back and use the litter box
That's it – It's not big of a ask
Here's the thing though
Your cat is trying to tell you something and peeing outside the litter box is a way of them telling you something is wrong
Problem is – you got no idea!
So it's time to play detective mode
Lucky for you – I have written out some possible reasons why your cat is behaving like this
Carry on reading to find out the possible reasons
DISCLOSURE: https://catloverhere.com/ is reader supported so if you buy any products featured on this site I may earn an affiliate commission. As an Amazon Associate I earn from qualifying purchases. Read my full disclosure here.
If your cat is peeing in the shower drain or anywhere else in your house they shouldn't be I recommend this guide I discovered which helped when my cat started peeing in the shower and elsewhere around the house, it's called Cat Spray Stop …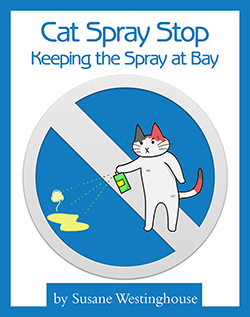 Why Your Cat Is Peeing In The Shower
Reason # 1: The litter box is dirty
If your cat stops using the litter box, you need to look at how often are you scooping up cat litter 
As we all know, the cat is the cleanest species ever so they expect their litter box to be clean 
They don't want to go over the litter box, stomping on their waste – that's disgusting 
Think about it
You wouldn't want to use a washroom that is filthy – well I certainly would not want
I guess the same goes for your cat too
Also, cats' personalities differ from one another.
I had a cat where I needed to change the litter every day because the smell of his own urine bothered him!
So, you have to know your pet's distinct characters to know the things you need to address.
I know, cleaning the litter box everyday is not something we want to do or we may not have time to do it
You work full time and then you come home and just want to relax!
It might be worth looking at buying a self cleaning litter box
That way you never have to worry about scooping cat litter
If you have the budget then I would recommend this automatic litter box…
Self cleaning
Odor eliminations
Google and Alexa voice controls
Advanced sensors and radars to keep your kitty safe
Smart connected app
Triple layer safety protections
Free Shipping (US only)
Quiet
90 Day Trial
1 Year Warranty
Best Automatic Litter Box For The Money 
Reason # 2: Your cat just wants to save time for himself from covering his urine.
This might sound silly but it's possible.
Yes, sometimes, cats are lazy (like me!) 
They want to go and play around and use up all that energy they have.
So, if you see your cat peeing in the shower, be thankful that it's not on your carpet–which is way better and hygienic. as I mentioned earlier
Still though you'd rather have your cat use the litter box
Reason # 3: Go to the vet and check her for UTI.
This is the best thing to do to ensure the health of your fur-baby.
Sometimes, unusual cat activities link to pets' health issues.
You can quickly tell if your cat acts differently than his usual self and one of the signs is not using the litter box
A chronic urinary tract infection could be the real cause of your cat's unusual behavior.
Cats love to pee on a cold and smooth surface to alleviate the pain.
Cats are really good at hiding away their pain so it can be difficult to realize your cat is in pain
That's why I would recommend checking out the litter brand Pretty Litter
When your cat uses the litter box the litter changes color if there is something wrong with your cat
Pretty Litter defines it's self as "the worlds smartest cat litter" and "Health monitoring litter that won't break your back, or the bank".
I go more into detail in my Pretty Litter Review 
No more litter box smell – traps odor instantly and then eliminates moisture, so you'll never smell your cat's dirty business again.
It's a natural cat litter that monitors your cats health by containing an indicator that changes colour when abnormalities in your cats urine are detected.
Alpha Paw Genius Cat Litter with Health Indicator, Odor Eliminating, Low Tracking Natural Cat Litter Crystals, Non-Clumping, Dust Free, Non-Stick, High Absorption Unscented Kitty Litter Refills 6 Lbs
PRIME & REVOLUTIONARY CAT LITTER: Scratchy Paw Litter is a revolutionary natural cat litter that monitors your cat's health. This premium item contains an indicator that responds to deviating values in the urine such as blood, alkaline, bilirubin, or abnormal PH levels.
SUPER ABSORBENT: Our non-clump crystal sand cat litter allows urine or pee to be absorbed in seconds, the easiest way to keep your catbox fresh all day long. Plus, cleaning the litter box is quick and easy because it stays dry, leaving no trace. Best of all - no odor - making Alpha Paw cat supplies a great choice for multi-cat families.
LOW-TRACKING: Our natural cat litter refill items do not contain perfume and will not stick to your cat's paws, preventing any unhealthy licking or messy house tracking. It is all natural, hypoallergenic, contains no chemicals and no additives added, safe for you and your cat or kitten.
BEST ODOR CONTROL & DUST FREE: Help keep the litter box area neat and ready to use for your furry four-legged friend with Alpha Paw dustless cat litter. This scoopable cat litter stays ultra-clean even after weeks of scooping, creating a more inviting and better smelling litter box. Dust-free for less mess when you scoop and pour.
TRUSTED BRAND: We only want the best for your furry companion, and we are committed to helping them live happier, healthier, and longer lives. Your pet is special and worth it, which is why we design honest, high-quality products curated by pet parents, for pet parents.
Reason # 4: Your cat might be marking his territory.
Have you bought a new cat home?
Because that could be a reason why your cat is peeing outside the litter box
He could be marking his territory in the shower!
It's a way for your cat to tell the new cat to back off!
Make sure to introduce both cats slowly and gradually
There are plenty of YouTube videos that shows you how to do this
If you don't have a new cat then it could be other cats coming into the garden or into your area
If this is the case then the best thing to do is block off your cats view of the garden and outside for a little while
In the meantime you just have to scare those cats away so they don't come back
Once you're confident they ain't coming back then you can let your cat look outside again
A Solution To Stop Your Cat Peeing In The Shower
Look,
It's not easy dealing with this situation especially when you have so many other things you're dealing with at home
And you don't want to go from one website to another seeking advice cause one website says to do this and then another says to do something completely different
It get's overwhelming!
Yes, go through this article and see if it's any of the reasons I have provided and then work on it accordingly
Before you actually do anything
Take your cat to the vets to make sure he's healthy
So which guide I'm I talking about?
It's called  Cat Spray Stop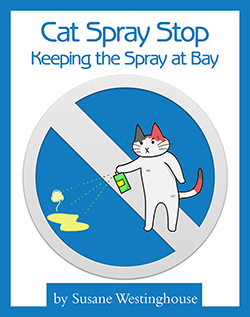 It's about over 140 pages of pure tips and advice on how to get your cat to use the litter box
I actually purchased this myself as you can see from the purchase proof screenshot below…
It's real in-depth and you learn things you wouldn't find on the internet
The best part?
It's all in one place and it's a step by step system you just got to follow
You get it straight to your email and just need to download it
Here's another awesome thing
It's backed with a money back guarantee! 
That's 2 whole months for you to try it out and if for some reason you think it's not helping you get your money back
Pretty cool right?
Why Your Cat Pees In The Shower Drain
When your cat stops using the litter box it's a way of your cat telling you that something is wrong 
The first thing you should do is to take your cat to the vets to make sure it's not UTI or any other infection
If all is good then you got some detective work to do and figure out what's causing this behavior
Hopefully this article has given you some idea and direction which can help you identify the problem
And seriously consider checking out  Cat Spray Stop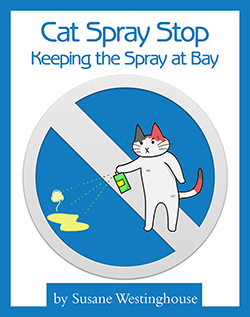 Related article – Why does my cat watch me shower?
Related article – Cat Spraying No More Review 
Last update on 2022-06-07 / Affiliate links / Images from Amazon Product Advertising API