In this article you're going to learn why your cat is peeing in the closet
You'll discover the possible reasons your cat is behaving in this manner
And you'll learn how you can stop this behavior and get your cat to use the litter box
As a cat parent
The worst nightmare is when your cat starts to pee outside the litter box
The smell of cat urine can smell really bad
It can literally make the whole house smell
The worst part?
When you have guests come over and the stench of cat urine is making the house smell
Embarrasing!
If your cat is peeing in the closet then the smell of cat urine can make your clothes smell like cat urine too
Now if you have work and you just realised in the morning a puddle of cat urine in the closet
It's not a ideal situation to be in
I understand it can be frustrating and annoying
The important thing to remember is your cat is not doing this out of spite
Nor is your cat peeing in the closet to get your angry
Your furbaby is trying to tell you something
It's down to you to figure out what is causing this behavior
Shouting at your cat won't make things better
It will just make things worse
Let's look at the possible reasons your cat is peeing in the closet
DISCLOSURE: https://catloverhere.com/ is reader supported so if you buy any products featured on this site I may earn an affiliate commission. As an Amazon Associate I earn from qualifying purchases. Read my full disclosure here.

One quick way to solve this problem is with the downloadable Cat Spray Stop eBook which you can learn more about by clicking the button below…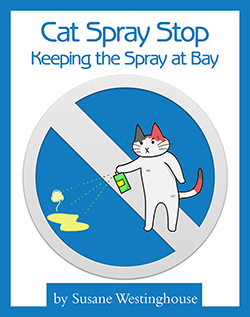 Possible Reasons Your Cat Is Peeing In The Closet
There are a number of reasons your cat is not using the litter box
Your cat can't tell you literally what is making them do this otherwise it would be so easy!
The first thing you need to do is take your cat to the vets as soon as possible
1) Medical Condition
As soon as your cat stops using the litter box you should book a vet appointment
UTI Conditions
Normally when a cat stops using the litter box it could be because of UTI (urinary tract infection)
It's a natural cat litter that monitors your cats health by containing an indicator that changes colour when abnormalities in your cats urine are detected.
Alpha Paw - Genius Cat Litter, 5-Color Health Indicator, Odor Eliminating, Non-Stick, Lightweight Crystals, Non-Clumping, High Absorption, Unscented, 6 Lbs
PRIME & REVOLUTIONARY CAT LITTER: Genius Litter is a revolutionary natural cat litter that monitors your cat's health. This premium item contains an indicator that responds to deviating values in the urine such as blood, alkaline, bilirubin, or abnormal PH levels.
SUPER ABSORBENT: Our non-clump crystal sand cat litter allows urine or pee to be absorbed in seconds, the easiest way to keep your catbox fresh all day long. Plus, cleaning the litter box is quick and easy because it stays dry, leaving no trace. Best of all - no odor - making Alpha Paw cat supplies a great choice for multi-cat families.
LOW-TRACKING: Our natural cat litter refill items do not contain perfume and will not stick to your cat's paws, preventing any unhealthy licking or messy house tracking. It is all natural, hypoallergenic, contains no chemicals and no additives added, safe for you and your cat or kitten.
BEST ODOR CONTROL: Help keep the litter box area neat and ready to use for your furry four-legged friend with Genius Litter. This scoopable cat litter stays ultra-clean even after weeks of scooping, creating a more inviting and better smelling litter box.
TRUSTED BRAND: We only want the best for your furry companion, and we are committed to helping them live happier, healthier, and longer lives. Your pet is special and worth it, which is why we design honest, high-quality products curated by pet parents, for pet parents.
Check out my article – Best Cat Litter For Cats With UTI 
You want to make sure it's nothing health related
If the vets say it's nothing health related which is good news
So what other possibilities is causing your cat to pee in the closet
2) Problems With The Litter Box
Are you cleaning the litter box regularly?
If the litter box is not cleaned regularly and is filthy then your cat won't use it
It has to be clean
I mean you can't blame them right?
We wouldn't want to use a bathroom that is filthy
So your cat won't use a litter box that is not up to standards
It's something they use everyday so make sure you clean it often
Cleaning A Litterbox The Right Way
Cat urine stains and their associated smells are nearly impossible to remove with standard cleaning products or general household products due to the smell lingering and the fact your cat my urinate there again.
And sadly it will just get worse over time as the urine and smells compound.
Also, the scent and chemicals of some household cleaners can be overly strong for your cat and actually discourage them from using the litterbox.
But thankfully there is a solution…
A special Enzyme Cleaner designed specifically to remove cat stains and odours, forever and you can find one of the best options available here…
ANGRY ORANGE Pet Stain and Odor Remover - 2 Spray Pack - 32 oz Dog, Ferret, Rabbit & Cat Urine Enzyme Cleaner - 24 oz Pet Odor Eliminator for Strong Odor - for Pee on Carpet, Furniture, Tile, Wood
DESTROY PET STAINS & SMELLS - This Angry Orange odor eliminator and enzymatic pet carpet cleaner combo gives you all the power you need to keep the house smelling fresh and free from stains. Don't let your pet permanently mark their territory around your home.
CLEANS SURFACES - Our animal spray is a powerful pet urine enzyme cleaner for pee stains and many other accidents including feces and vomit. Works on carpet, wood floors, concrete, tile, couch upholstery, mattress bedding, pillows, car interiors, garbage cans, area rugs and cushions.
FRESHENS THE AIR - Tired of overpowering animal smells from a ferret cage or rabbit pen? Our dog and cat urine odor eliminator combats the bad kitty stench left in the litter box, dog urine in the yard, on kennel surfaces, or anywhere else the stink of pet waste is a problem.
CITRUS SCENT - Derived from fresh orange peels, our dog pee spray cleaner and pet odor eliminator for home smell like heaven and work like hell on stubborn messes. Note: Cats & Birds may be sensitive to concentrated levels of certain ingredients.
SUPER COMBO - We have your back! Whether you're dealing with stains or smells, our pet supplies are backed by our 24/7 customer support. Reach out if you have any questions or concerns.
If your house is currently smelling bad from cat urine or your cat is continuing to urinate around the house then consider this…
A special Pet Smell Odourizer that eliminates odours rather than masks them and it will make your house smell fresh again.
This Pet Smell Odourizer here is specifically designed for this task…
Sale
4) Litter Box Location
The location of the litter box is very important
If the litter box is near something that makes loud noises such as a washing machine or dishwasher – this can make your cat feel scared to use the litter box
Or is the litter box near where your cat eats?
A cat won't use the litter box if he has to relieve himself near where he eats
5) Territorial
Cats are very territorial animals
So when a cat feels threatened they will usually pee elsewhere becuase they want to assert their authority
Have you noticed any cats coming into your garden?
Or maybe cats wondering into your area and your cat has seen them
This will make your cat pee outside the litter box
6) Area Is Not Cleaned Properly
If your cat has peed in the closet then you should clean it
I mean clean it thoroughly
If it's not cleaned thoroughly then your cat will come to the very same spot and pee again
The trick is to clean it to such a extent that your cat will never know he has peed there
You see, we might think it's clean but your cats senses are much stronger than ours
Use a powerful cat urine remover
Here's my top 3 best cat urine remover which you can check out
7) Stress
Yes, your cat can get stressed just like how we get stressed
Want to know an interesting fact
Your cat can sense you being stressed which makes them stressed too
And a stressed cat will avoid the litter box
Other reasons your cat could become stressed is
Change in routine
Change in environment
New addition to the family
These can all trigger stress in your cat
How Can You Stop Your Cat From Peeing In The Closet
One quick way to solve this problem is with the downloadable Cat Spray Stop eBook which you can learn more about by clicking the button below…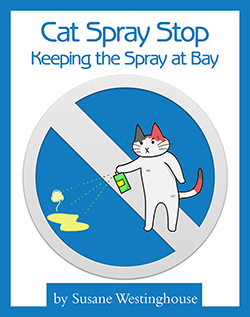 The first thing you should do is take your cat to the vets as I mentioned earlier
Hopefully your dcat is healthy and nothing is wrong with your furbaby
Clean Litter Box
Make sure your cats litter box is cleaned regularly
This is very important for 2 reasons
Cat litter that is dirty can be dangerous if it's not scooped up and discarded. Have a read of my article Cat Litter Ammonia Poisoning to learn more about the danger of cat urine in cat litter that is not cleaned
A dirty litter box will result in your cat avoiding it
I get it
We are all busy
Especially if you work a full time job
It can get tiring – you come home and just want to put your feet up and relax
But then you realize you got to clean the litter box!
That's why I think it would be a great investment to purchase a self cleaning litter box
That way you know the litter box is cleaned regularly
The best part?
You don't have to ever scoop litter again!
Check out my article – Best Automatic Litter Box For The Money
Where Is The Litter Box Kept
Have a look at where your litter box is
Have you moved it by any chance?
Is it near their food bowl or near a washing machine or anything else that makes a loud noise?
Make sure the litter box is in a place where your cat can easily get access to it
Chase Away Any Unwanted Visitors 
If you notice any cats coming into your garden or into your area
Try to scare them away
What you can do is
Block access to the windows so your cat can't see outside (for a little while)
During this time work on making sure cats do not come into your garden or area
When you are confident they are not coming anymore, you can let your cat look out the window again
That way your cat will feel his territory is not threatened anymore
Love And Affection 
If you think your cat is stressed then during these times your cat needs love and affection
Yes, they are peeing in the closet but now is not the time to get angry
They want you let them know everything is okay
I know you already show your cat much love and affection
But go over the top
Spend quality time with your baby
Play with him and let him know you are there for him
This will hopefully make your cat happy and stop this bad behavior
Cat Spray Stop
One quick way to solve this problem is with the downloadable Cat Spray Stop eBook which you can learn more about by clicking the button below…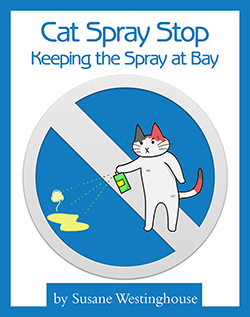 It's a guide that teaches you how you can stop your cat from peeing outside the litter box
It's a great in-depth guide which has some really amazing advice
You don't have to get it
I personally bought this myself which is why I am recommending it
It just makes things easier you know
It can get overwhelming when our cat starts to pee outside the litter box
Frustrating – annoying
Sometimes it can cause problems with our loved ones
To such an extent where they start to say get rid of the cat!
With Cat Spraying No More – you have all the information and help in one place
You don't have to look around this website then another to find the solution
It's a step by step system that you just got to follow
If you are interested and want to learn more you can check out my review
I talk about what it's about and how it will help you in more detail
Here's where you can get your hands on this guide and read the story on how Cat Spraying No More was created
Click here to read the interesting story 
It's not something you have to get it but it sure will make your life a lot easier
How To Stop Your Cat Peeing In The Closet
When your cat starts to pee in the closet it can become really frustrating
The last thing you want is to put your clothes on only for it to smell like Cat urine!
And cat urine smell is not something you want to be smelling like
It's really strong and not a very nice smell – I'm sure you know how it smells like
(Okay enough of talking about cat urine and the smell of it!)
Whatever you do, don't shout at your cat or punish your cat
This will not solve the problem
It will just make matters worse
You have to find out what is causing this behavior and then tackle it from there
Your cat is just trying to tell you something
Something is not right
You just have to figure it out
And if you go through the points in this article – hopefully it will help you put a stop to this
Or another option is to try out Cat Spraying No More and see with that information and guidance you can help your cat use the litter box again
One quick way to solve this problem is with the downloadable Cat Spray Stop eBook which you can learn more about by clicking the button below…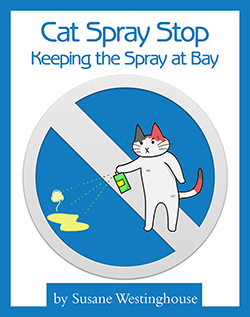 PS – It comes with a 60 day money back guarantee so you got nothing to lose! 
Related article – Cat peeing in laundry basket – how you can stop this 
Related Article – Cat Peeing On Dog Bed 
Last update on 2022-11-09 / Affiliate links / Images from Amazon Product Advertising API