In this article you're going to learn about why your Cat is starting to pee everywhere after the birth of your baby
You're going to learn about how you can get your Cat used to the new arrival in your family (Your baby)
You'll also learn if Cat urine is harmful to your newborn baby
There's lots to cover
I'll also reveal this awesome step by step guide that can help you stop your Cat peeing everywhere permanently
Let's get started
Congratulations on the birth of your new baby!
That's some great news
For you yes,
Unfortunately for your Cat it may be bad news
Which is the reason your Cat is peeing everywhere after the arrival of your new baby
And I understand it's driving your insane
Because you're looking after your baby but then your Cat is giving you more work to do
It's frustrating!
Let's first look at why your cat is peeing on baby stuff (which is the last thing you'd want!)
DISCLOSURE: https://catloverhere.com/ is reader supported so if you buy any products featured on this site I may earn an affiliate commission. As an Amazon Associate I earn from qualifying purchases. Read my full disclosure here.
When my cat was Spraying everywhere I came across this guide called Cat Spray Stop that REALLY surprised me at how effective it was.
So, if your cat is spraying everywhere after your new baby has arrived I recommend you check it out ASAP…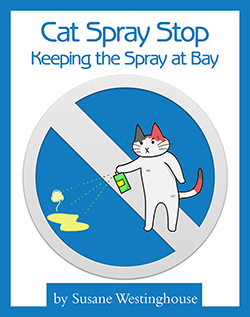 Why Is My Cat Peeing All Over My Baby Stuff?
Cats are territorial animals
And when they feel threatened, they mark their territory by peeing on things
It actually be that your Cat is spraying as this is their way of marking their territory
Because all the belongings of your new born baby is all new, your Cat is peeing on your baby's things to mark them hers
It's their way of saying this is mine
If your cat has been neutered and is still spraying then you should check out my article
How to stop a cat from spraying after neutering 
Yes, Cats can get jealous
And especially when a new baby arrives in the family then the attention will go to the baby which can make your Cat jealous
The best thing to do is try to give your Cat the same very attention you did before the baby come
It can be hard but it can be done too!
Another thing is, if your Cat has peed on your baby's items then it's a good idea of getting them washed immediately! (Of course)
I would recommend using a cat urine odor that removes the smell of cat urine and the stain too
Something like this
The All Natural Enzymatic Cleaner
CLICK HERE TO SEE THE PRICE
I recommend this because you can use this enzymatic cleaner for other purposes too
Not just cat urine but cleans other things too which I think is a bonus!
You can find out more about this awesome urine remover by clicking here.
How Do I Prepare My Cat For a Baby?
Here's 6 steps you can follow to prepare your Cat for a new baby
1. Keep a consistent schedule
When a new baby arrives things can get out of hand! Especially your schedule
Trust me, I remember when my little girl was born, everything went pear shaped
My sleep was gone that was for sure lol! (She's 2 years old now, time flies!)
So now the problem is, your Cat loves routine (Cats are very routine animals)
Try to sort out a schedule for your Cat For example, playing, eating, cleaning the litter box
It might be easier for you to get an automatic feeder as this could make life a little easier for you…
WOPET Automatic Pet Feeder Food Dispenser for Cats and Dogs–Features: Distribution Alarms, Portion Control, Voice Recorder, & Programmable Timer for up to 4 Meals per Day
FEED YOUR PET WHILE YOU'RE AWAY - Schedule up to 4 automated feedings per day using the built-in programmable timer. Program each meal time with a few button clicks on an easy to use LCD screen. Control food portions from 2 teaspoons to 4.5 cups per feeding. NEVER MISS A FEEDING. The WOpet feeder is wall powered and/or battery powered. In case of a power outage, the feeder will continue to function on 3 D-size batteries to assure your pet gets fed (batteries not included).
CONTROL PORTION SIZE OF EACH FEEDING - Dispense anywhere from 2 teaspoons to 4.5 cups dry food per feeding to sustain any size animal. You can program a unique portion size for each automatic feeding, allowing you to ESTABLISH REGULAR EATING ROUTINES throughout the day without any stress.
RECORD A CUSTOM MESSAGE FOR YOUR PET - Keep your pet excited about meal times! Press and hold the mic button for three seconds to begin recording a message to be played as each feeding dispenses. (e.g. Here, Fido! Come and eat, boy! Good doggy.)
OPERATING TIPS - Suitable for dry food only, with the food pellet size ranging from 0.2-0.6 inches in diameter; up to 4 meals a day. The removable hygienic feeding tray is dishwasher safe and easy to clean. LARGE STORAGE COMPARTMENT - The main food storage compartment can hold up to 20 CUPS of food and is removable for easy cleaning and refilling.
CUSTOMER SERVICE - Customizable Feeder Great for Dogs, Cats and Small Animals of Various Sizes.Provide a interesting living for your pet with our WOPET pet feeder!24-hour professional service center and 365 day technical support.
Try getting family members to help too
You could create a list where family members could see it
2. Introduce Sounds, Sights and Smell Slowly To Your Cat
When a new family member shows up then this can cause your Cat to become scared and feel overwhelmed
It would be a good idea to get your Cat used to what to expect before baby arrives
But if your baby has already arrived then it's still not too late!
You could try keep them distance for the time being and play sounds of baby crying slowly and then you can gradually increase it till you get to a realistic level. This will help prepare your Cat
Place your newborn baby's toys around your Cat so he/she can get used to their presence. of new toys etc
Grab some of your baby's blanket and let your Cat smell it so she's used to the smell.
Don't worry if your Cat sprays the clothing, it's just a way of them marking their territory
This way, it will make it less foreign for them when your Cat sees the baby
3. Avoid Showing Too Much Attention To Your Cat
You must be wondering, "Isn't it a good thing showing your Cat affection?""
But what tends to happen is, before the baby arrives, so much attention is directed towards the Cat with a good intention because the parents know that the baby will get the most attention when they come into the family
This can have a negative effect because when you're giving your Cat all that attention, they would then expect that level of attention all the time and when it suddenly stops, your Cats behavior will change and will pee everywhere when she sees the baby now getting all the attention
Don't get me wrong, you should show your Cat attention all the time but it may be a very good idea to provide your Kitty with some independent toys before the baby has arrived or even when the baby has arrived
Don't forget to carry on giving your little furball snuggles and cuddles!
Also, do set some time to play one and one with your Cat too
4. Let Your Cat Explore The Baby Room
You should allow your Cat to explore your baby's room so she can become familiar with all the baby stuff
If you want, you can also place a Cat tree there for a little while because this will make her feel at home in this new baby room
Avoid letting your Cat use the baby crib or sleep in there because if your Cat snuggles too close to the baby mouth this can be dangerous.
Also, your Cat may urinate in the crib so you might want to grab a crib tent which will prevent your Kitty from climbing inside the crib
5. Resolve Any Behavior Issues
If your Cat has some bad behavior problems, it would be a good idea to try and sort this out before your baby arrives
If your baby has already arrived then you'll need to sort out a schedule and address this behavioral issue
6. Provide Tall Cat Trees For Your Cat
With all the manic and hectic baby activities, your Cat would appreciate to escape from all this especially from those small hands that will want to pull your Cats tail!
Providing your Cat with a Cat tree or even a perch will help your Cat get away from all this chaos but at the same time be in the same room as his slaves (you!)
Cats love high spaces and this will give him a great view of her territory
These are 6 cool ways to get your Cat prepared for a baby
Bestseller No. 1
Cat Climber Multi-Level Door Hanging Cat Tower, Large Design - 4 Tier Hanging Cat Condo Door Cat Tree,67.3 Inches
🐈【Great for Multiple Cats to Play】Whether you have 1 or multiple cats, our cat door hanging condo will support your cats for playtime and rest time, large cat tower for indoor cats' different needs. Cats can climb, rest, scratch, snooze with this cat tower.
🐈【Space Saving】The over door cat ladder perches can attach to virtually most door to take up less wall and floor space no need to drill a hole on the wall; With 4 roomy levels to climb through, Save space in your home.This cat tree has multiple levels that can accommodate multiple cats and can hold up to 40lbs.
🐈【High-quality Materials】Multilayer cat climbing frames are made of high-quality wood, and they have a scratch-safe surface that allows cats to scratch and claws without damaging your own furniture.
🐈【Easy to Assemble】Each board is marked and installed with high-grade hardware.It comes with a hexagonal wrench. It is simple and easy to install, and only takes 10 minutes to complete. If you have any questions, please contact us in time, we will provide the best after-sales service.
🐈【Ideal for Most Cats】Our cat climbing tree is ideal for all indoor cat breeds and kittens up to 40 pounds!
Bestseller No. 2
Cat Tree for Indoor Cats, 5-Story Large Cat Tower, 57.09 inch Tall Cat Climbing Center with Hammock, Basket, Removable Fur Ball Sticks, Sisal Covered Scratching Post, Cat Scratching Board, MR08
🐈【Comfortable Overlook Platform and 3 Hairball Sticks】: The cat tree is designed for kittens or small to medium sized cats. 2 top resting and overlook platforms for your cat to sit on and look out the window on quiet and comfortable afternoons. 3 fur ball sticks with sticks and removable, your cat will be able to jump up and down and play with them on this fun cat tree to increase the fun of cat activities.
🐈【Sturdy and Stable Cats Activity Center】: The sturdy base plate and thickened pillars provide strong support and maximum stability for this cat tree, helping to prevent shaking and damage caused by violent jumping. From hanging out to jumping, the 5-story cat tower provides a vertical field to accommodate multiple cats climbing, playing, scratching and sleeping at the same time.
🐈【Sisal Scratching Post and Furniture from Damage】: MR08 cat tree is designed with 3 scratching practice rooms, bottom sisal scratching post, top sisal scratching post and oval sisal scratching board. The sisal material is strong and wearable to encourage kittens to practice scratching, it not only keeps your pets healthy and entertained, but also keeps their claws away from your delicate furniture and keeps the furniture from damage.
🐈【Tidy and Fashionable Faux Linen Surface】: The surface of the cat tree is made of trendy and fashionable high quality faux linen, with a smooth, neat and shiny surface, which is more loved by cats. The linen-like surface is tough and wearable, dry and breathable, making the surface dirt easier to be cleaned, so that the cat tree is always clean and tidy.
🐈【Sturdy and Comfortable Basket and Hammock Full of Security】: Active cats feel tired after chasing fur balls and climbing up and down, the cat tree basket can hold up to 17 pounds, so your cat can get a pleasant rest. Cats naturally like the feeling of being wrapped up, and cat hammocks make them feel more secure, so hammocks are always essential.
Sale
Bestseller No. 3
Heybly Cat Tree 73 inches XXL Large Cat Tower for Indoor Cats ,Multi-Level Cat Furniture Condo for Large Cats with Padded Plush Perch, Cozy Basket and Scratching Posts Light Gray HCT030W
3 spacious well-padded top perch: Suitable for families with multiple cats. Multiple curious kittens can lie on the soft high place in a same time to observe the scenery outside the window
2 large cat condos: The condos are spacious enough, allow a furry fat cat sleep in them comfortable. And they are also suitable for kitties who are prefer sticking together
Stability is the primary consideration for a cat tower: Reinforced cat climbing frame base, sisal wrapped scratch posts and Anti-toppling devices ensures the security of active kittens and cats playing on the activity centre
Ideal design of structure: Structure of the cat tree is designed according the climbing habits of cats. A springboard is add to help any age range cats to climb up and down
Lazy cats favorite basket: Cats naturally like the feeling of being wrapped , which makes them feel safe, therefore a hanging basket are always necessary
7. Make Sure Your Cats Litter Box Is Always Clean
Cats won't go near a soiled litter box so if it's dirty they'll look for somewhere else to pee, don't give them any excuse, you don't want cat urine near your babies things.
Either clean the box regularly enough right after the cat has used it or if that's not possible, use a Robotic Litter Box…
Sale
Bestseller No. 1
Omega Paw NRA15 Self Cleaning Litter Box Regular Size
THERE IS A NEWER VERSION OF THIS ITEM THE NRA15-V5.0
Easy to use
Cleans in seconds. Clean litter drops back into the pan while the waste deposits into a convenient pull-out tray for quick and easy disposal
Does not require electricity, liners or filters
Suitable for small to Medium cats
Sale
Bestseller No. 2
Pet Zone Smart Scoop Automatic Litter Box (Self Cleaning Litter Box, Cat Litter Box with No Expensive Refills) [Hands-Free, Easy to Clean Waste Disposal Litter Box, Works with Clumping Cat Litter]
HANDS-FREE WASTE DISPOSAL - Self cleaning cat litter box with a smart sensor for triggered activation of cleaning cycle. Includes one-month supply of no-touch plastic cat litter bags to use with your cat litter box. Great alternative to traditional cat litter boxes.
MESS AND ODOR CONTROL - Automatic cat litter box with angled deflector with fins and raised height ensures cat litter clumps stay inside cat litter box litter pan. Cat odor is eliminated with carbon zeolite technology in this automatic litter box. For best results, use lightweight cat litter or less dense cat litter.
CONVENIENT, COST-EFFECTIVE, EASY TO CLEAN - Being able to choose your favorite lightweight clumping cat litter reduces waste making this litter box much more budget friendly. No need to buy specialized or costly crystal cat litter for your large litter box. Other leading self cleaning litter box and automatic litter box can cost $600.00 annually in refills for one cat. Easy disassembly for cleaning and maintenance with modular components. Clean with pet-friendly soap and water.
QUIET - Four times quieter than other leading brands of cat litter box automatic self cleaning with no household disruption for your cats or you. Perfect self cleaning litter box for up to 2 cats.
CUSTOMER CARE & WARRANTY - One-year limited warranty on your electronic automatic cat litter box. Your automatic litter box ships in brown drop-ship box. Not recommended for kittens under 6 months
Sale
Bestseller No. 3
Can Cat Urine Hurt My Baby?
Cat urine has ammonia which is highly concentrated
Being exposed to Cat urine for a long period can cause serious health issues
The best thing to do is to make sure you clean the Cat pee as soon as possible
I know people say to use vinegar or baking soda but I believe you need to use those products that are designed to actually eliminate the odor completely
Those products have enzymatic cleaners in them
I actually have written a article on what is the best Cat urine odor remover
You can check it out by clicking here 
If you catch your Cat peeing other than the litter box than make sure it's cleaned up thoroughly straight away
Why Is My Cat Peeing Everywhere After New Baby Is Born?
If your Cat has started peeing everywhere or urinating on your baby items after the introduction of a new baby then most likely you have unfortunately done this wrong!
But it's not too late as you can still get your little kitty used to your newborn baby
It may take some work and time but surely your Cat will accept your baby as one of her own
I've mentioned in the article on how you can get your Cat prepared and if you follow these steps then for sure your Cat will stop peeing everywhere or on your baby's stuff out of jealousy or marking their territory
If you feel like this behavior is not stopping and your just continuous to pee everywhere then you need to look deeper into this problem
It can be frustrating and challenging too – especially with a newborn baby in the house
That is why I recommend you check the Cat Spray Stop eBook…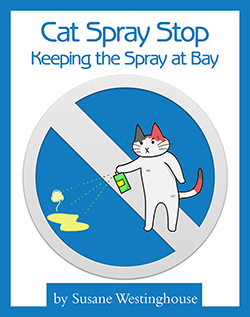 This is a guide that will guarantee help you in going to the root of the problem and actually solving it too
I know you don't have time to do research for this and that
It's best to have something all in one right? Like this guide
All you have to do is follow the step by step system
And trust me, anyone can follow it
And the best part?
It's worked for many Cat parents including me, look here's proof I bought it…
And you know what, I think this guide is something all Cat parents need
It is the solution to your Cat spraying problem or your Cat peeing outside the litter box
I believe it's best to follow a step by step guide rather than looking for answers because it can become overwhelming and that's the last thing you want with a Newborn baby
If your cat is pooping everywhere too then you should check out my article – How to stop a cat from pooping on the floor 
Related Article – Cat Peeing On Dog Bed 
Related Article – Click here to read my Cat Spraying No More Review 
Last update on 2022-09-28 / Affiliate links / Images from Amazon Product Advertising API