When your cat is peeing on your husbands clothes or anywhere else in the house – it's a way of your cat telling you something is wrong.
This is how your cat communicates. The first thing you should do is get your cat to the vets for a check up just to be sure it's nothing health related.
One of the reasons could be your cat loves your husband so your furbaby is adding their scent to your husbands clothes!
We'll go more in detail in the article so carry on reading..
In this article you're going to learn why your cat is peeing on your husbands clothes
Be honest, you'd rather your cat pee on your husbands clothes than yours! lol
Good for you but not for your other half!
But it's important to find out what's causing this behavior
And that's what you'll find out in this article
So if you're tired of your furbaby peeing on your partners clothes then you're going to love this article!
Sound good?
Let's get started…
DISCLOSURE: http://catloverhere.com/ is reader supported so if you buy any products featured on this site I may earn an affiliate commission. As an Amazon Associate I earn from qualifying purchases. Read my full disclosure here.
If your cat is causing serious problems by peeing on your husbands clothes I recommend you check out a guide called Cat Spray Stop immediately…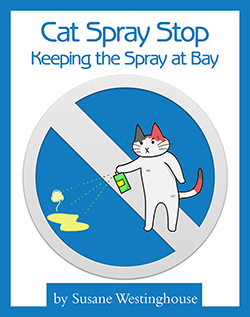 Why Does My Cat Pee On My Clothes? 3 Reasons…
Let's look at some of the reasons your cat is peeing outside the litter box
The first thing you need to do is
1) Your Cat Needs A Medical Check Up
When a cat pees outside the litter box and on other things in the household it's a way of your cat telling you something is wrong
It's a way of your baby communicating with you
She's not doing it out of spite
Yes, it's frustrating but patience is the name of the game when dealing with this
So the first thing you need to do is take your cat to the vets
The most common reason is UTI (Urinary Tract Infection)
Taking your cat to the vets is the first thing you should do
Hopefully it's nothing medical related.
Detecting Future UTIs In Cats
Your cat can't tell you in words it has a problem so the next best thing is to use a Litter that clearly shows you their is an issue, like this one…
It's a natural cat litter that monitors your cats health by containing an indicator that changes colour when abnormalities in your cats urine are detected.
No products found.
So let's look at what else could be the reason your cat is peeing on your husbands clothes
2) Your Cat Is Being Territorial
When your cat feels threatened in regards to their territory
You know what she's going to do?
Yep, pee on things
This is their way of marking their territory
So your husbands clothes is a target and a way of showing other cats this part of the house is hers
How could you stop this if this is the case?
If you see any cats coming into your garden then you need to scare them away
Do this until you think they won't come back again
In the meantime you could block your cats view of the garden until you deal with the problem
Same thing if you see cats coming in front of your house
Try to scare them away because with their presence is causing your cat to pee on things to mark their territory
3) Your Cat Loves Your Husband
Sorry to break it to you
But your cat may just love your husband which makes her want to pee on his clothes
Cats tend to pee on things to mark their territory but sometimes they pee on things to make them feel more safe and secure
For example if it smells like them then it must be okay
So your cat may feel very comfortable around your husband and because your husbands clothes smells more like him she wants to add her scent to it too
Cute in a way I guess!
4) Your Cats Litter Box Is Soiled
Cats are cleanly creatures and will not use a soiled litter box, so when they find one they'll simply go pee elsehwere and it might just be your husbands clothes that are on the receiving end.
If keeping the litter box clean regularly enough for your cat is an issue then consider having multiple litter boxes or a self cleaning, robotic, box like this one…
No products found.
Cleaning The Cat Pee From Your Husbands Clothes Thoroughly 
Make sure you clean thoroughly the area in which the clothes were stored, as that may be causing the cat to continue pee'ing there again, here's a good solution…
Cat urine stains and their associated smells are nearly impossible to remove with standard cleaning products or general household products due to the smell lingering and the fact your cat my urinate there again.
And sadly it will just get worse over time as the urine and smells compound.
But thankfully there is a solution…
A special Enzyme Cleaner designed specifically to remove cat stains and odours, forever and you can find one of the best options available here…
No products found.
If your house is currently smelling bad from cat urine or your cat is continuing to urinate around the house then consider this…
A special Pet Smell Odourizer that eliminates odours rather than masks them and it will make your house smell fresh again.
This Pet Smell Odourizer here is specifically designed for this task…
No products found.
How To Stop Your Cat Peeing On You And Your Husbands Clothes
The first thing you should do is make sure your husbands clothes is not accessible to your cat
So if you've just done the laundry, make sure the clothes are put away in the cupboard
That way your cat has no chance on peeing on your husbands clothes
Or just get your husband to put their clothes away and say to him "if you don't put your clothes away, our furbaby will pee on it!" (That'll make him put the clothes away asap! Lol!) 
If your cat has peed on your husbands clothes then make sure to clean it straight away
Also, cat urine drops may have fallen near your husbands clothes so make sure that is cleaned properly too
If it's not cleaned thoroughly your cat will just come back and pee again
You might think it's cleaned but your cats senses is much stronger than of a humans
You need to use a cat urine remover that actually works!
Bodhi Cat No More Marking Spray
You may need to spray the area where the clothes were at the time of the cat pee'ing as the cat may be smelling the previous odour still which attracts them to do it again, here'a product that can help woth that…
No products found.
There are so many different products out there so it's hard to choose the right one cause you just don't know
Lucky for you I have reviewed the top 3 best cat urine removers which you can check out by clicking the link below
Another Solution To Stop Cat Peeing On Husbands Clothes
If you are struggling to deal with your cat peeing outside the litter box
Or you're overwhelmed with all the information out there on the internet
Then I would recommend checking out this guide called Cat Spray Stop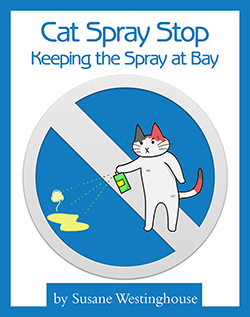 It's a step by step guide that helps you get your cat to use the litter box
The best part?
It's all in one place (PDF) Why Is My Cat Peeing On My Husbands Clothes
You just got to follow it
I got this myself and trust me it's very in-depth
Makes life a lot easier
Have a read of my review and see if it's something that will help you
You're backed with a 60 day money back guarantee so you don't have much to lose.
But I didn't just stop there, I actually bought Cat Spray Stop
Here's a screenshot of my order when I purchased it…
Frequently Asked Questions
Do Cats Pee On Things Out Of Spite? 
No, your cat is not peeing on things out of spite or trying to get you angry
As I mentioned earlier, it's their way of communicating with you
Your cat loves you and won't do anything to get you angry, afterall you love your cat too
You can check out my article where I talk more about this by clicking the link below
Does Spraying Vinegar Keep Cats From Peeing?
You can use vinegar to deter your cat from peeing on certain places
The only problem is, are you willing to let your house smell of vinegar?
I mean it's just a way to stop your cat from peeing in one certain spot
But what about the rest of the house?
I'm sure you don't want your whole house smelling like vinegar
The main thing is not deterring a cat from peeing in the house
It's about finding out the cause 
And then working through them to help your cat to stop peeing everywhere and in the litter box
That will stop the behavior completely rather than putting vinegar all over the house
I would recommend checking out this guide called Cat Spray Stop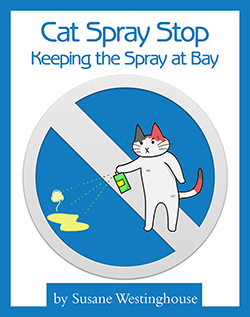 Related Articles
Why is my cat peeing everywhere all of a sudden?
Last update on 2023-07-20 / Affiliate links / Images from Amazon Product Advertising API