I have a four-month-old kitty that I adore.
Recently, she started peeing on my kitchen countertops.
At first, I was very confused because she had her litter box in the laundry room.
I did a bit of research and was able to find the reasons why she did that.
I will share what I discovered and how I dealt with the problem.
Here is a list of possible causes for the problem.
1. Urinary tract or bladder infection.
2. Territory marking.
3. Mice.
4. Chlorine bleach.
5. Litter box.
6. Stress.
7. Declawed cats.
I will discuss each of these possibilities in detail and give you ways to solve them.
Most of these causes are either health-related or behavioral.
DISCLOSURE: http://catloverhere.com/ is reader supported so if you buy any products featured on this site I may earn an affiliate commission. As an Amazon Associate I earn from qualifying purchases. Read my full disclosure here.
Why Is My Cat Peeing On Countertops in Kitchen?
One quick way to solve this problem is with the downloadable Cat Spray Stop eBook which you can learn more about by clicking the button below…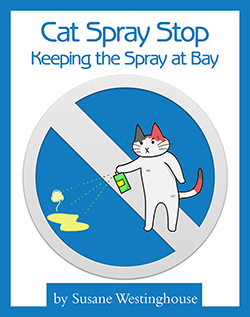 1) Urinary Tract Infection (UTI) or Bladder Infection Can Cause Your Cat To Pee On Countertops
UTI in cats can be truly painful which causes your cat to pee in inappropriate places such as the kitchen counter 
They usually look for cool places to alleviate the pain when urinating so your cat may find the kitchen cooler or your cat might be peeing near the fridge or freezer 
It's a way for your cat to communicate with you that something is wrong 
They can't literally speak to you so they pee outside the litter box to try and tell you something is wrong!
The first thing to do is to visit the nearest vet clinic and check your cats well-being.
Don't wait or hold back thinking your cat may just stop on their own because if you do this – there's a chance things can get worse 
If you've taken your cat to the vets and hopefully there's nothing medically wrong and he's all healthy then we need to do a little digging and see what other factors are causing this peeing on the kitchen counter.
CLICK HERE TO TALK TO AN ONLINE VET INSTANTLY
If you want to prevent UTIs in future consider using "smart litter" brands that can detect this issue instantly, such as…
It's a natural cat litter that monitors your cats health by containing an indicator that changes colour when abnormalities in your cats urine are detected.
No products found.
Carry on reading..
2) Stress Can Cause Cats To Pee On Kitchen Counter
Yes, cats can get stressed too and one of the reasons could be you have too many people, kids or cats in the house.
It's a case of territory.
If your place is too crowded where your cat can't have its own space, bad behavior might occur such as peeing on the kitchen top.
Another reason could be a new environment
Have you recently moved homes?
If you have then your cat will take time to get used to their new surroundings
You see, cats love routine and as soon as that changes it can cause stress which leads to peeing outside the litter box
If this is the case then I would recommend checking out my article – Cat not using litter box after moving 
Your cat needs his own space.
Letting Him Relax and Play In His Own Space
One way you could do this is by getting him a cat tree where he can relax at the top and be away from all the noise and crowded areas
That way he can see his territory (the room) and feel safe and secure
This is very important if you have children or get a lot of visitors that are young children.
Here's a good option with 4 levels and plenty of hiding spots…
No products found.
You can check out my article – best affordable cat trees 
Likewise consider using a Cat Calming Kit…
Using Cat Calming Pheromone Diffuser Kit 
These can help de-stress and reduce anxiety in cats…
No products found.
A cat that is stressed needs love and affection
They need assurance that you love them so be gentle
Yes, it's frustrating when they are peeing everywhere but shouting at them is just going to make things worse
Love and affection is needed
Here's an article I wrote about how to calm a stressed cat down
3) Dirty Litter Box Can Cause Cat Peeing On The Counter 
Cats are very clean animals.
I mean, they spend around 30% of their timing grooming themselves!
So imagine if the litter box is dirty
There is no way they will use at all
When you think of it – you can't blame them
We humans wouldn't use a washroom that is not clean so the same goes for your cat
It is best to scoop the litter as much as possible.
Try to scoop twice a day if you can
A fresh clean litter box will surely entice your cat to use it!
If you're a busy person and you know life can get busy then I would recommend investing in a self cleaning litter box
You don't have to scoop litter ever again
Saves you so much time and hassle because your cat won't be peeing outside the litter box!
Robotic Self Cleaning Litter Boxes
With these self cleaning litter boxes your cats box will always be clean and therefore it will increase the chance that they use it, see how these work here…
No products found.
Check out my article – best automatic itter box for the money 
4) Declawed Cats
Declawing cats may not be illegal in other countries, but doing so is cruel and inhumane.
It is painful for cats and will cause behavioral issues.
Claws are cats' natural protection.
They also use it to scratch and bury their waste.
Another thing is that cats might feel pain when they try to bury their waste in the litter box.
That's why many pet owners carried out a petition to illegalize declawing cats to places where it is legal.
5) Mice
They could be trying to scare away mice which is a good thing because they are trying to protect you from mice.
You need to check your house for rodents and fumigate your house if necessary.
6) Chlorine bleach being used
Many cats do not like the smell of chlorine bleach.
They will pee on the surface to let you know that that's their space and they don't like the smell of bleach particularly lemon scented cleaners.
So if you disinfect your countertops using chlorine bleach, it may cause your cat to behave this way.
Likewise, if you've been cleaning their litter box with bleach or other disinfectants that they don't like the smell of it may be why they've stop using them all together.
Use An Enyzme Cleaner Instead…
Cat urine stains and their associated smells are nearly impossible to remove with standard cleaning products or general household products due to the smell lingering and the fact your cat my urinate there again.
And sadly it will just get worse over time as the urine and smells compound.
But thankfully there is a solution…
A special Enzyme Cleaner designed specifically to remove cat stains and odours, forever and you can find one of the best options available here…
No products found.
If your house is currently smelling bad from cat urine or your cat is continuing to urinate around the house then consider this…
A special Pet Smell Odourizer that eliminates odours rather than masks them and it will make your house smell fresh again.
This Pet Smell Odourizer here is specifically designed for this task…
No products found.
Why is my cat peeing on the counter?
Urinary tract or bladder infection.
Territory marking.
Mice.
Chlorine bleach.
Dirty litter box.
Stress.
Declawed cats.
How To Stop Your Cat Peeing On The Kitchen Counter If None Of These Other Solutions Work
Look,
When your cat starts to pee outside the litter box it can become a real problem
Trust me, I know myself as I have experienced
It can get to such a problem where family members talk about rehoming our furbaby
Or we start to get into bickering fights with our partners
Before it gets to this point or if it has – it's time to put a stop to this
It's not easy
The internet has so much information and advice
So you go to one website and they say do this
But then another website says the complete opposite!
It can get overwhelming
That's why I would recommend checking out this guide called, Cat Spray Stop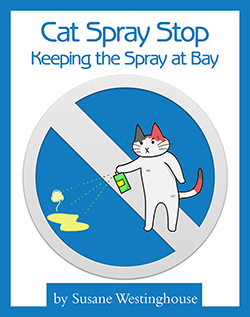 You can see I purchased it in the screenshot below…
You know what I love about it?
All the information is in one place.
It's a step by step system that you just need to follow so your cat will never Spray in your house ever again.
You get it straight away via email in a PDF format so it'll never get lost.
Backed with a 60 day money back guarantee 
You can learn more about it here…
Last update on 2023-07-20 / Affiliate links / Images from Amazon Product Advertising API