I own three cats and I have experienced all types of behaviours while raising them. At some point, I realised that one of the cats had a habit of peeing on one spot on the carpet.
I thought the habit would go away with time but it only got worse, so I had to start looking for solutions.
Therefore, if you're suffering from the same problem I'll help you understand how you can help your cat overcome the issue.
Reasons why cats pee in the same spot:
It could be health problems.
Stressful situations
Behaviour issues.
Let's have a look at some of the top reasons why your cat is peeing in a forbidden spot and how you can stop it…
DISCLOSURE: http://catloverhere.com/ is reader supported so if you buy any products featured on this site I may earn an affiliate commission. As an Amazon Associate I earn from qualifying purchases. Read my full disclosure here.
One quick way to solve this problem is with the downloadable Cat Spray Stop eBook which you can learn more about by clicking the button below…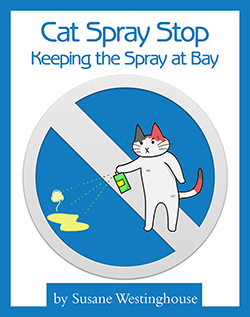 Why Does My Cat Keep Peeing In The Same Spot (Like The Carpet)?)
1. Health Problems Like Urinary Tract Infections
The most common reason why your cat will pee in one spot is illness.
A cat with an infection or disease affecting the urinary tract has a sudden urge to go therefore; they can easily make a spot in your home a good option for their litter box.
Urinary incontinence affects many cats and it's a top reason why your cat might be peeing on one spot. The cat could also have been injured previously, or probably their kidneys have issues.
Other conditions that could bring about this problem include those affecting the liver, thyroid and diabetes.
Therefore, if you suspect any of these, you should have your veterinarian check your cat to ensure the illness is treated.
As soon as you treat the underlying condition you'll realise that your cat will stop peeing on one spot.
CLICK HERE TO TALK TO A VET ONLINE INSTANTLY
Detecting UTIs In Cats
What if I said to you, you could get litter that detects any health issues in your cat?
How this works is if your cat has UTI then the litter color will change to Blue or Dark Green
It can potentially save your cats life!
It's a natural cat litter that monitors your cats health by containing an indicator that changes colour when abnormalities in your cats urine are detected.
No products found.
If your Cat is healthy and nothing is wrong with him that is causing him to pee outside the litter box is there are other reasons we need to look at
And one of those reasons could be stress
Yep
Your Cat could be stressed
2. Behaviour Issues Can Cause Your Cat To Pee In Same Spot
Another factor that plays a major role in how your cat pees is emotional distress. Cats are extremely sensitive and their behaviour is determined by how they feel.
When in distress, cats will tend to urinate in areas that are not meant for that purpose. There are a lot of factors that will make your cat uncomfortable such as lifestyle changes and interactions with new people.
Moving to a new home or bringing home a new pet are the biggest sources of cats' distress. It makes your cat feel confused and stressed out.
Is Your Cat Stressed? 
Stress could be a reason why your Cat has stopped using the litter box.
Have you made changes in your household? Maybe you have added new furniture or redecorated the house? This can be a cause for stress in your Cat
You see, Cats love routine and as soon as changes are made this triggers stress in your Cat
Another cause for stress could be if you have moved houses
All this again is new to your Cat and it's new territory
This causes your Cat to avoid using the litter box and pee elsewhere
If you have moved homes then have a read of my article – Cat not using litter box after moving 
If you think your Cat is stressed check out my article: How to calm a stressed Cat down
Using Cat Calming Pheromone Diffuser Kit 
These can help de-stress and reduce anxiety in cats…
No products found.
The main thing to remember is to always show love and affection to your Cat
Regardless if he's stress or not
A happy Cat will use their Litter box
I'm not saying that should be the motive for you loving them because they deserve that
As a Cat parent, we should always make sure our little feline friend is happy
3) Not Properly Cleaning The Previous Urine
If your Cat has peed in a spot, you've cleaned it and your Cat has then again peed in the same spot then this means you have not cleaned the area properly (Clean it properly!)
Cats can smell their urine even if we can't smell it ourselves
Yes, when they first pee or spray, the urine smell is very strong and we can smell it instantly
Once you've cleaned it though, and you've used products that get rid of the urine smell, you may think the smell is gone but in reality it hasn't which is why your Cat has gone back to the same spot and peed again
Because the smell of urine is there, your Cat now may think it's okay to pee  there and will use it again and again
What you need to do is clean this spot thoroughly
You need to use Urine removers that have enzyme cleaners in them
This completely removes the urine smell to such an extent that even your Cat won't be able to smell it
If you don't know which urine removers to buy I have made a top 8 best Cat urine removers list that you need to buy.
Have a look at this special Enzyme Cleaner designed specifically to remove cat stains and odours, forever and you can find one of the best options available here…
No products found.
Why do I recommend this particular cat urine remover?
Simple
It removes the smell of cat urine and cat urine stain too
It doesn't stop there
You can use this to clean other surfaces too!
For example you can use this cleaner for
Bathroom
Kitchen
Furniture
Pet Accessories
Clothing
Carpet
If your house is currently smelling bad from cat urine or your cat is continuing to urinate around the house then consider this…
A special Pet Smell Odourizer that eliminates odours rather than masks them and it will make your house smell fresh again.
This Pet Smell Odourizer here is specifically designed for this task…
No products found.
If your Cat has peed on hardwood floor then you can check out my article on Best Cat Urine Remover For Hardwood Floors 
Another thing you can do to stop your Cat from peeing in the same spot is to block off the area
Wherever your Cat has peed, put something there to block your Cat from going there again
This will stop your Cat from peeing in the same spot again
4) Litter Box Issues
If your Kittys litter box is dirty then your Cat won't use it. Simple As That.
Would you use a washroom that is dirty? No right? Then your Cat is the same
You need to make sure the litter box is cleaned regularly at least everyday
Cats are very picky about their litter box
They are also very clean animals, I mean, they spend around 30% of their lives grooming themselves!
You can imagine how clean they are!
Try and keep the Litter box spotless
Try and clean it twice a day and if you can't do that then once a day
Hard work right? But our Cats make it worth it for sure!
If you don't have time to clean it everyday why not invest in a automatic self cleaning litter box?
That way you know the litter box is clean and it saves you a lot of time!
Automatic Robotic Self Cleaning Litter Boxes
If you use a Robotic self cleaning litter box (yep, that's a thing!) then your cats box will always be clean and therefore it will increase the chance that they use it, see some of the options here…
No products found.
Have a read of my article to discover the best automatic litter box
Best Automatic Cat Litter Box For Large Cats 
You should also make sure the litter is something your cat likes
Try to use a dust free cat litter
It's better for your cat and for your family too
Especially if someone suffers from asthma
Check out my top 6 best dust free cat litter for asthma 
Litter Box Location
This is another cause for your Cat to avoid using the litter box
Make sure the Litter box is placed somewhere in the house where your Cat has privacy
I mean who wouldn't want privacy when using the washroom! 
Also, make sure it's in a place where your Cat has a easy escape route too
Don't put the litter box next to where your Cat eats and sleeps
That will just deter them from using it
Also, avoid putting the litter box next to things that can scare them such as a washing machine or dryer
Your Cat will associate using the litter box as something that is scary
If you live in a small apartment and you find it difficult where you can put the litter box you can check out my article
Where to put Cat litter box in a small apartment 
You'll find some good tips in there!
The Number of Litter Boxes
Some Cats tend to use one Litter box to pee in and another to poo in
Try adding another litter box and this may stop your Cats behavior of avoiding the litter box
As you can see, Litter box plays an important role in your Cats life
If the litter box is clean and placed somewhere convenient for your Cat to use then you shouldn't have any problems with your Cat not using the litter box
As mentioned before, it's important to get a health check for your Cat just to make sure it's nothing medically
5) Owning Multiple Cats
If you own several cats, it's also possible that your cat is avoiding the litter box because it's shared. Some cats prefer having their own litter box.
As a result, they'll start looking for a new spot to pee just to avoid sharing a litter box with the other cats. You could try installing several litter boxes so that each cat has their own to avoid such situations.
Simply evaluate the circumstances or changes that might make your cat uncomfortable and try to make the environment better for them in all ways.
How To Stop A Cat From Urinating In The Same Spot Of The Carpet (Or Anywhere Else) Forever
I came across this guide called Cat Spray Stop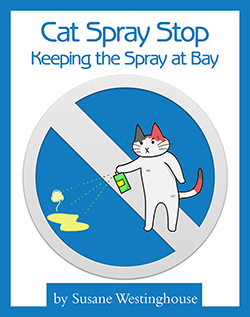 This is a guide that stops Cats from spraying or peeing outside the litter box and in the same spot over and over.
It's a full in-depth guide on why Cats avoid using the litter box
What I loved about this is it's so easy to follow step by step system that any Cat parent can follow
You learn so much from this guide about the different reasons your Cat is not using the litter box and gives you solutions to this problem
And trust me, this will be a big help to ALL Cat parents.
It's about over 140 pages long but with tricks and advice on how to stop your cat peeing outside the litter box
You don't have to go out and grab this as it gets sent to you via email straight away
And you can start to read and implement what you learn straight away
I know how it is with a cat peeing in the house ut can be really frustrating dealing with urine all over the house and I just could not take it anymore!
I had enough of this urine problem myself
But I didn't just stop there, I actually bought Cat Spray Stop
Here's a screenshot of my order when I purchased it…
And you know what, I think this guide is something all Cat parents need
It is the solution to your Cat spraying problem or your Cat peeing outside the litter box
How To Stop Your Cat Peeing In The Same Spot Of The Carpet Or Anywhere Else In The House
There's always a solution to a problem – Remember that.
Having a cat that pees on one spot can be irritating and uncomfortable for any home owner. Therefore, there is need to stop such behaviour and avoid a recurrence in future.
So what's the solution to your cat peeing in the same spot over and over…
To help your cat avoid this behaviour, there are several solutions and these include:
• Following prescribed medication if your cat has an infection or disease
• Eliminating all environmental distresses
• Installing several litter boxes if you have more than one cat
• Ensure you clean their litter box regularly
• Provide a clean litter box and ensure the surroundings are clean and comfortable
So, here are all the top reasons why your cat is peeing on one spot:
• Health problems
• Behaviour issues
• Owning multiple cats
• The condition of the cat's bathroom
• Failing to clean their urine
And here are the solutions to the problem:
• Following prescribed medication if your cat has an infection or disease
• Eliminating all environmental distresses
• Installing several litter boxes if you have more than one cat
• Ensure you clean their litter box regularly
• Provide a clean litter box and ensure the surroundings are clean and comfortable
And remember to check out Cat Spray Stop which you can download immediately by clicking the button below…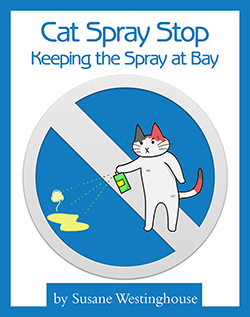 Last update on 2023-07-20 / Affiliate links / Images from Amazon Product Advertising API