In this article you're going to learn how to stop your cat from peeing on laminate floor
Yep!
No more of your cat ruining your laminate flooring
I know what you're thinking – "It's laminate flooring so it won't get ruined"
But that's not true unfortunately
The liquid will eventually seep into the floor and can damage it beyond repair 
You can see how important it is to stop this behavior
Not only will it damage the floor but the smell of cat urine being constantly there can be very frustrating!
We may not be able to smell because we're used to it but when guests come over they certainly can!
Or if you're gone away for a few days and you come back you'll be able to smell it too
Another problem that can happen is..
Your Cat will come back to that very same spot to pee again if it's not cleaned thoroughly
But don't worry
It's not all doom and gloom
This behavior can be stopped
So if you're tired of your cat peeing in the house and want it all to stop or you just want your furbaby to use the litter box then you're going to love this article
Sound good?
Let's get started!
DISCLOSURE: http://catloverhere.com/ is reader supported so if you buy any products featured on this site I may earn an affiliate commission. As an Amazon Associate I earn from qualifying purchases. Read my full disclosure here.
Quickly, if you want to stop your cat peeing on the laminate floor (or indeed anywhere else in your house) quickly and forever then check out  Cat Spray Stop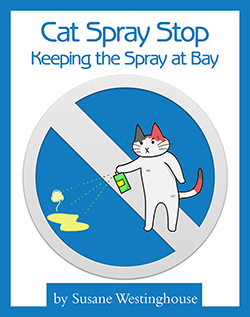 How To Stop Your Cat From Urinating On Your Laminate Floor
The first thing you need to do is check your Cat for any medical problems
Check Your Cat For Medical Problems
Even if you think your Cat is completely fine it is very important to get a extensive veterinary examination to get a full clear picture.
Now you might be wondering why this is important if your Cat is urinating outside the litter box
Well, Urinating outside the litter box is one of the most common medical signs of trouble to a cat.
This happens due to painful urination, urinary incontinence or too frequent urination.
The problem with this is, it's kinda like a guessing game
Cats are very good at hiding their pain away
So the scary thing is, you won't have no idea if your cat is in pain or not which is why a trip to the vets is necessary
And let's be honest, a trip to the vets can be costly even for a checkup
How can you check if your cat is suffering?
It's simple…
It's a natural cat litter that monitors your cats health by containing an indicator that changes colour when abnormalities in your cats urine are detected.
No products found.
Is Your Cat Stressed? 
Taking a step back and analyzing why your cat may be stressed is the best way to solve litter box avoidance and not just that, this will also make your Cat and you much happier.
As Cat owners (I mean Cat servants), we have to remember that not only are Cat's intelligent animals, they are also very sensitive.
Any new changes in your household can trigger stress in your Cat which can cause problems.
A new baby or an addition of a new person to the household can cause stress to your Cat which will result in litter box avoidance.

Shouting at your Cat, or striking him/her for not using the litter box and soiling the laminate floor will not do anything but cause them stress and will more likely make them repeat the act.

If you have introduced a new Cat or a new pet into the home can cause stress to your Cat until your Cat has accepted the newcomer.

Moving house can already be upsetting enough to us humans even though we know and understand what is happening so you can imagine what must be going through the mind of a Cat and how frightening it must be for them as they do not know what is happening.
To learn more about Cat stress when moving then you should check out Katzenworld's blog post on moving home with your pet – Avoiding Stress
No products found.
If your Cat is not stressed then you need to look at how many Litter boxes you have
Do You Need More Litter Boxes? 
If you are 100% sure that your Cat is not marking his territory by spraying and is infact urinating outside the litter box then it is time to take a second look at your litter box.
Let me tell you, Cats can be really fussy about using their Litter box that already has feces or urine in them especially if it is not their own therefore if you have more than one Cat then the general rule is one box per Cat plus an extra one. One litter box can often not be enough.
If you have only one litter box then add one more and hopefully your Cat will start using one that suits his fancy
Another thing I want to mention is sometimes your Cat pee in the very same spot
You might have cleaned it up but then your Cat's nose is very sharp and they know exactly where they have peed
If this is the case you can check out my article
Stop a Cat From Peeing In The Same Spot
If you have a Kitten and wondering which litter box to get for them then you can check out my article by clicking the link below
What Is the best litter box for kittens 
If you have already got enough litter boxes
Then you need to look at where the litter box is located
Litter Box Location
First and foremost it's important to have your Cats litter box placed in a safe area and can be easily and quickly reached.
If this is not the case then this may lead to your Cat not using the Litter box.
If your house has multiple stories then it is best to have one on each floor.
Why?
Because think about it, if you were on the 2nd floor and had to use the washroom would you want to run all the way downstairs to use it?
Then it is also the same for your Cat.
If the Litter box is too tucked away for example in the cabinet, or in the corner of your laundry room down in the basement, the chances are your Cat will not bother go looking for them.
The more convenient and easily accessible the litter box is for your Cat will often help solve this problem.
If you notice that your Cat is peeing in the same spot in your house then you could try moving the Litter box in that area and gradually moving it to a more appropriate spot.
Clean Your Litter Box Regularly
Cats are very clean by nature so they expect their Litter box to be clean too!
Ask yourself, would you walk barefoot into your Cats litter box?
No?
Neither would your cat if it's dirty.
A filthy litter box is asking for trouble hence the best thing you can do is clean it twice a day and keep it clean.
I know cleaning it twice a day can be tiring but it has to be done
If you want to automate this process and you have money to spend then why not purchase an automatic litter box?
Automate Cleaning The Litter Box…
This robotic and self cleaning litter box is a great way to eliminate you having to empty it daily…
No products found.
Check the type of Litter you are using
Cats noses are much more sensitive than ours so what may seem like a pleasant smell to us can be overwhelming to your Cat which is why heavily perfumed litter may be a good choice for you however not for your Cat.
Because Cat like to stick with familiar your Cat may urinate outside the litter box if all of a sudden you switch to a new type of litter.
Studies show that most Cats prefer a clumping, unscented litter.
These are some of the reasons your Cat may urinating outside the Litter Box.
Most importantly, you should address the problem quickly because it could then become a normal behavior for your Cat.
However, this is a no quick-fix easy solution to litter box problems and each situation is based on your Cat and your Home.
One important factor I would like to stress about is it can get frustrating when your Cat starts ignoring the litter box completely.
I mean they don't even know it exists (despite your best efforts in showing them!) but whatever you do please do not scold at them or even worse hit them!
This will just make things worse and will have a very bad negative impact on your Cat
We love our Cats so it's important we find a solution to stop this behavior
So what can you do?
Well, we don't want to get rid of them! That's the last thing on our mind!
But it can get to that right?
Especially if your family members are not very Cat people, then getting rid of your Cat is mentioned
Cats are family and I'm sure you would never want to do that
Don't worry because you won't need to get rid of your little feline friend (It's never a option anyway!)
Look,
This behavior can be challenging right?
And it's playing detective on figuring out why your Cat is not using the litter box
You can work this out all by yourself
But how many more times are you going to clean and wipe the floor
You don't want the urine to soak through over time and destroy the floor which then can't be repaired
You could also do research and gather information from the internet and give that a try
The problem with that is, you get information overload!
How To Stop Your Cat Peeing On Laminate Flooring
When your Cat pees outside the litter box then it can be a cause of concern which is why you should get your Cat checked out by the Vets as soon as possible
If your Cat is all healthy then look at the different reasons I have mentioned in this article and check if your Cat is peeing on the floor due to those reasons mentioned
You can then work with your Cat in solving this behavior
I just want to mention, it's important that you don't shout at your Cat or even worse lash out at him!
This should never happen
Shouting at your Cat will just make things worse because this will stress your Cat out
Your Cat may even become afraid of you
I know it can be frustrating dealing with this situation but you just need to have patience and commitment
It's just a phase your Cat is going through
It won't last and you can actually put a stop to it now with Cat Spray Stop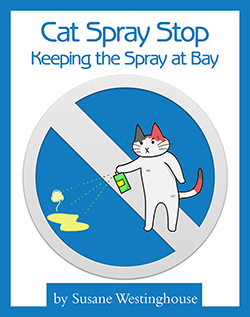 This is a guide that stops Cats from spraying or peeing outside the litter box and in the same spot over and over.
It's a full in-depth guide on why Cats avoid using the litter box
What I loved about this is it's so easy to follow step by step system that any Cat parent can follow
You learn so much from this guide about the different reasons your Cat is not using the litter box and gives you solutions to this problem
And trust me, this will be a big help to ALL Cat parents.
It's about over 140 pages long but with tricks and advice on how to stop your cat peeing outside the litter box
You don't have to go out and grab this as it gets sent to you via email straight away
And you can start to read and implement what you learn straight away
I know how it is with a cat peeing in the house ut can be really frustrating dealing with urine all over the house and I just could not take it anymore!
I had enough of this urine problem myself
But I didn't just stop there, I actually bought Cat Spray Stop
Here's a screenshot of my order when I purchased it…
And you know what, I think this guide is something all Cat parents need
It is the solution to your Cat spraying problem or your Cat peeing outside the litter box
Last update on 2023-07-20 / Affiliate links / Images from Amazon Product Advertising API